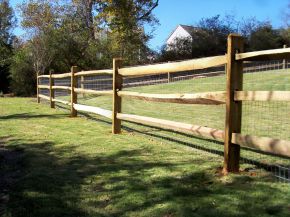 For many years now, we have been a key supplier of West Virginia Split Rail fencing in and around our three locations in Mendham, Annandale, & Chester.
Whether it's for the yard, around the pool or by the truck load to your farm, we can help. Our split rail fence is made from hard locust posts and pine rails. Locust posts in the ground will give you around a 20-year life cycle. There is no need to pay more for pressure treated wood. We have found that when using pine over hardwood there is a less warping of the rail.
Canadian cedar is another type of wood fence that makes for a more formal post and rail fence appearance. Cedar will naturally preserve itself by cracking open somewhat so that it dries out on the inside. We have a supplier that will ship any size order, so the material always looks fresh. This supplier also offers us a wide section of other types of wood fence.
So why not stop in and talk to us about your fencing needs or feel free to contact us with your specific questions!
Contact one of our locations for more information.
Mendham Garden Center
(Mendham)
11 West Main Street
Mendham, New Jersey 07945
Mendham Garden Center
(Chester)
162 US Highway 206 South
Chester, New Jersey 07930
Mendham Garden Center
(Annandale)
1306 State Route 31 North
Annandale, New Jersey 08801