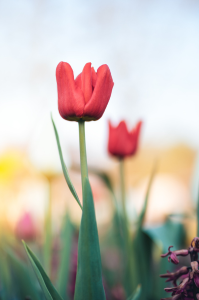 It's that time of year again, time to visit your garden supply store and get everything you need to prepare your garden for spring. Preparing now will save you time and frustration when all you want to do is spend time planting and tending to your nursery. Here's what you need to do to prep your NJ garden for spring:
1. Clean your garden
Reorganizing your kitchen cabinets should not be the only thing on your spring cleaning to-do list. When was the last time you did a sweep of your nursery? Get rid of any plant debris. Be on the lookout for hibernating bugs—they like to hide out by the crowns of your perennial plants. Clean all of your gardening tools. See which ones need to be replaced and stop by your garden supply store for new ones.
Also, wash any pots you have in your garden, and make sure you get in all of the crevices. Pests and disease can remain in these small spaces and kill young plants. Check your landscape supply store for products that can help you clean every corner of your NJ garden.
2. Install a rain barrel
Rain barrels collect rain water so you can water your plants in an environmentally friendly way. They should be placed next to a downpipe to collect as much water as possible. Rain barrels can be picked up at your local landscape supply store.
3. Fix fences
There is nothing little animals like more than a fresh snack readily available from your garden. Keep animals away by installing a new fence or fixing the one you already have. It is very important for the survival of your plants that you are able to provide a safe, uninterrupted place for them to grow.
Before you decide what kind of fencing to buy, think about the kind of animals who pose a threat to your plants. Will your nursery attract small animals? If so, a large wooden fence might not keep them out. All different kinds of fence materials can be found at landscape supply stores.
4. Prepare the soil
We know you are eager to get your growing season started, but working the soil too early may be a mistake. Snow and too much spring rain can make the soil saturated, and people walking on the ground or heavy machinery can compact the soil.
Plant roots grow best when there is air space between the soil particles. So, compacted, wet soil does not provide the right environment for plants to thrive. Also, if you try to aerate your nursery before the soil is dry enough, your heavy soil may clump and create air pockets. Air pockets are just as bad for roots as no air at all.
How do you know if you soil is ready? Pick up about half a cup of soil in your hand and try form it into a ball. If the soil breaks as you drop it to the ground, it is ready. If it remains in a ball, the soil is still too wet to use.
5. Plan your NJ garden
Where is everything going to go in your new nursery? Plan out where you will plant everything and you will save a headache later. Think about everything from how much sun each plant needs and if any plants need to be protected from the wind. Think about all of the supplies you need and visit your garden supply store before spring comes so you do not need to make multiple trips later. Check out our comprehensive and helpful guide to planning your spring garden for more details.
Also, now is the time to reorganize your garden. Do you have a poorly placed deciduous shrub? Find a new home for it before Spring comes. When you move your dormant deciduous plants, bring as much of the root as possible. Then, plant it at a similar soil level as it was before.