The holidays are approaching, and you're probably making a lot of lists. Who's invited to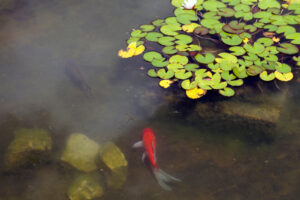 Thanksgiving or Christmas dinner? What do I need to do to decorate? Have I gotten all the gifts I need to buy?
If you have a backyard pond, there's another list you need to concern yourself with: What do I need to do to get my backyard pond ready for winter?
We say this not to add more stress to your life but to make things easier. Here are a few steps to take to prepare your pond for winter.
Clean your pond by removing dead plants, leaves, flowers, algae or any other debris. Take care not to accidentally remove floating plants that will grow in the spring. Decaying plants produce gas in the water that can be deadly to your fish.
Move any hardy live plants deeper into the water – a depth of at least 18 inches – to keep them from freezing. If your pond will freeze completely, remove the plants and keep them inside during the winter. Tropical lilies and more tender plants should be moved out of the water.
Likewise, remove any fish that may not survive through the winter. You should set up a tank in your home using some water from your pond, or just use tap water that's been treated to remove any chlorination.
Clean the pond filter. You should move it to the surface of the water so the air bubbles coming from the filter keep the water from freezing completely.
As the weather gets colder, reduce the amount of food you give your fish. Once the temperature goes below 50 degrees, stop feeding them altogether. The waste they produce will be more than your remaining plants can process. The fish will be in semi-hibernation, which means there will be enough nutrients in the water to sustain them through the winter.
When winter comes, your main job is to watch for ice. A floating pond deicer will keep your pond from freezing all the way and allow toxic gases to escape the water. In a pinch, a floating ball or piece of wood on the surface of the water will absorb the pressure of expanding ice.
As a leader among garden centers in NJ, Mendham Garden Center carries a number of supplies to help you with your backyard pond, from pumps and filters to fish, plants and fish food. Contact us today to learn more as you prepare your pond for the warmer months.