When the possibilities of a freeze last into late-April, which kills young seedlings, it is better to start seeds indoors (or in a greenhouse), so they're more mature when transplanted after the last frost.
If you are new to the homegrown vegetable scene, we welcome you. Your household will derive great joy watching seeds sprout, grow, transplant, and then flourish – yielding delicious vegetables through the late summer and fall. The following are some pro tips to get you started.
Create Your Seed Start & Transplanting Calendar
The amount of time you'll need from seed planting to harvest varies from plant to plant, and even the varieties within a particular type of veggie. For example, some tomatoes may take 75 to 85 days to mature from seed to fruit whereas hybridized "quick-grow" varieties may only need 50 to 60.
Download our Gardening Guide for specific tips on how to optimize your garden from month-to-month.
Start with healthy soil and irrigation
Warmer late-winter and early-spring days offer a good opportunity to amend the soil in your prospective garden plots. If you haven't grown a successful garden in the past, take advantage of soil sampling/testing at a garden center in New Jersey, and amend the soil accordingly to ensure your veggies and flowers have the nutrients and rich, biodynamic soil conditions to support an abundant garden.
The sales associates at your garden center in New Jersey will also share the best irrigation ideas for your garden, depending on its size and layout.
Products to support your soil and irrigation needs include:
Seed starts made simple
Seeds need well-lit, warm(ish) spaces along with moist nutritious soil. Our seed start packs provide ideal, greenhouse-like environments, and can be cultivated on a spare table, shelf, or the floor of a well-lit space in your home or garage.
While things like egg cartons or other small, reusable containers work well, we like the intentional trays designed for seed starts, which are deep enough, segregated, and have a lid to keep seed(lings) moist until they're sprouted and hardy enough to be uncovered and watered from above.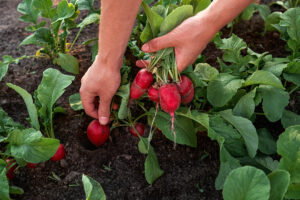 Your garden center in New Jersey will help you select the best varieties to handle our climate, pest potentials, and your interests. Typically we recommend starting with:
Tomatoes
Radishes
Beets
Zucchini & other summer squashes
Butternut and winter squashes
Peppers
Lettuce
Kale/chard
Basil, chives, rosemary, oregano, and other kitchen herbs
Green beans (pole or bush)
Nasturtium (both beautiful and edible, add them to salads)
Zinnias
Cosmos
Marigolds (a beautiful, natural pest repellant when used between or around vegetable plot borders)
Use the instructions to count back from harvest dates and plant the seeds accordingly. This timeline from Rutgers New Jersey Agriculture Station is also helpful.
Transplant after the last frost
The last frost in most areas of New Jersey happens between mid- to late-April. Therefore, our garden center in New Jersey recommends waiting until the first weekend in May to be safe.
And, don't forget to visit a Mendham Garden Center in New Jersey for personalized assistance. We have locations in Mendham, Chester, and Annandale. Our knowledgeable team will help you select the seed starting products you need and direct you to vegetable and plant types that make the most sense for your plant preferences and desired level of maintenance.