Taking time to find the best Christmas tree is one of most people's favorite Christmas traditions. It is even more enjoyable for some than decorating the tree itself as numerous fun activities accompany it. A cut Christmas tree is simply about the look and color for many people. However, there are other critical things that one needs to consider before buying one, such as the scent, needle retention, and shape.
Whether you're buying your first Christmas or your hundredth, here are the best cut Christmas trees you should consider this festive season and the reasons why.
 Douglas
Douglas is an evergreen tree that is very popular for live Christmas trees. You will love this tree as it has long-lasting needles and a beautiful pyramid-like shape that will give your house an amazing look. It has needles that grow up to 1.5 inches in length on all the sides giving it a perfectly full appearance. Another unique thing about this tree is its sweet fragrance, especially when its needles are crushed. Considering this evergreen Christmas tree will not only give you value for your money but also earn you a compliment or two from your family and friends.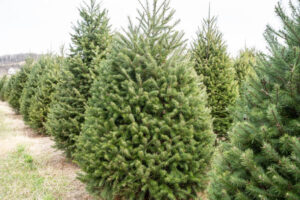 Fraser
Fraser is another tree that you won't help but fall in love with. The tree has a beautiful full pyramid shape and long dark blue-green needles that grow up to 1 inch, giving it a full and beautiful pyramid look. Its needles are much softer compared to other amazing evergreen trees. Another reason this tree is among the best Christmas tree decorations is its sturdy branches that are perfect if you want to hang heavy ornaments. Also, its branches give it more room to hang bulbs, which you will love.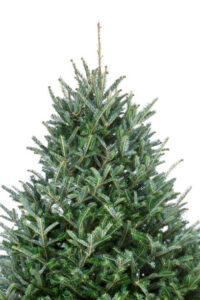 Nordmann
Featuring superb needle retention, a full look, and dark green foliage that is soft to touch, Nordmann is a great living Christmas tree decoration idea. Its lustrous and soft black-green needles are flattened, hence minimal shedding. Additionally, its needles originate from uniformly arranged branches, producing the perfect pyramid shaped specimen for your living Christmas tree. Its branches are more spaced out than other living Christmas trees, making it perfect for you if you have plenty of ornaments to hang.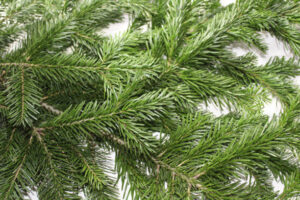 Concolor
Concolor, commonly referred to as "White far" due to its silver tint, is a magnificent live Christmas tree that has been increasingly gaining popularity over the years. One of the reasons this tree stands out and makes it one of the best live Christmas trees is its long needles. They can grow up to 2 inches, giving them a fuller look and a great shape. They have great needle retention, making them ideal for holding many ornaments. You will love their unique, pleasant citrus aroma. Their amazing bluish-silver color is something that you will love as well.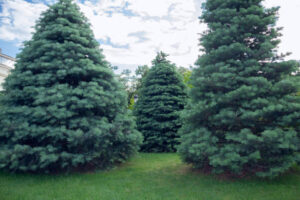 Turkish
Turkish, also known as the Black Sea Fir, have a full beautiful look that gives a house a magnificent look. They have deep green needles with lime-colored new tips in the spring and early summer that you will love. The needles stick upward, creating a flashy two-tone effect and revealing a bright, silvery underside that you will fall in love with. Turkish has layered branches, which are smooth, sturdy, and form a conical structure, creating dense but soft foliage.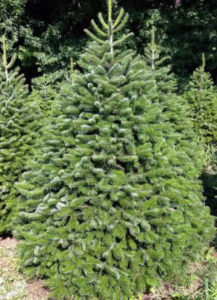 Bottom-line
There's nothing like a beautiful real Christmas tree to grace your home during the festive season. Visit your local garden center to find the perfect Christmas tree!